André Schürrle: Back home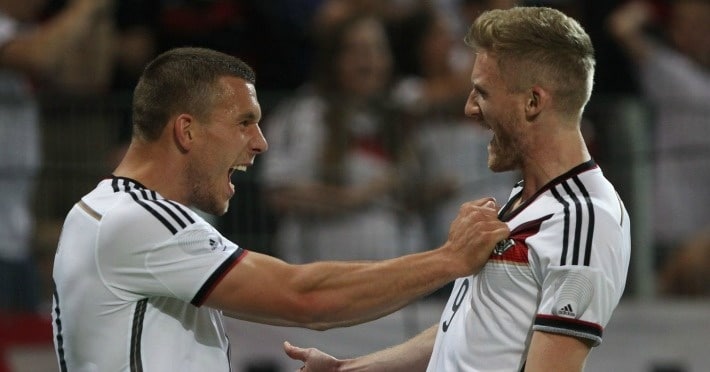 Please find the English version below!
Hi Leute,
als ich euch hier das letzte Mal Einblicke in unsere Vorbereitung auf die Weltmeisterschaft gewährte, war für mich der Weltmeistertitel ein noch lang ersehnter Kindheitstraum. Nun, knapp 2 Monate später, ist aus diesem Traum Realität geworden. Der Titelgewinn in Brasilien ist, auch mit ein wenig Abstand, unbeschreiblich und es dauerte schon ein bisschen, bis ich mir darüber im Klaren war, was die gesamte Mannschaft da geleistet hat. Einen großen Anteil haben sicherlich auch die Fans zuhause, die uns über die gesamte Zeit immer unterstützt haben. Selbst im fernen Brasilien war diese Unterstützung für uns alle zu spüren.
Der Spirit vom Campo Bahia
Für die Zeit während der WM, war das Campo Bahia unser Rückzugsort. Dort fanden wir tolle Bedingungen und eine optimale Betreuung durch den DFB und das Trainer- / Betreuerteam vor. Anstatt in einzelnen Hotelzimmern zu wohnen, haben wir dort in richtigen WGs gelebt, was nicht nur ich super fand und einen wichtigen Beitrag zum Teamzusammenhalt leistete. Mit Miroslav Klose, Toni Kroos, Roman Weidenfeller, Mario Götze und Shkodran Mustafi wohnte ich zusammen in einer WG – die Mischung aus Alter und Erfahrung hat sich wirklich gut ergänzt. Bei allem Ernst hatten wir auch viel Spaß und gute Laune, zu der alle aus dem Team beitrugen.
Meine Traummomente
Viele haben mich nach der WM gefragt, welche besonderen Eindrücke und Momente ich aus Brasilien in bleibender Erinnerung behalten werde. Die Gastfreundschaft und Herzlichkeit der Brasilianer, das tolle Land mit seiner Größe und den unterschiedlichsten Facetten haben mich sehr bewegt. Dazu gehört aber auch die Kluft zwischen Arm und Reich. Der sportliche Erfolg war natürlich gigantisch. Da gehen dir viele Gedanken durch den Kopf und du hast viele Emotionen. Der Pokal, die Tore, die Feierlichkeiten und der tolle Empfang in Berlin, das waren alles Superlative, die man nicht vergisst.
Selbstverständlich ist das alles natürlich nicht und man muss sich das auch immer wieder in Erinnerung rufen. Mein Weg führte mich in nur wenigen Jahren vom Ludwigshafener SC über den FSV Mainz 05 und Bayer 04 Leverkusen bis hin zum FC Chelsea und nun bin ich Weltmeister! Das ist doch Wahnsinn! 🙂
Überraschender Rücktritt
Der Rücktritt von Kapitän Phillip Lahm kam auch für uns überraschend. Auch für mich kam er unerwartet . Aber ich kann die Entscheidung nachvollziehen und respektiere sie. Dass man Spieler ersetzen muss, ist ein normaler Prozess. Das wird sicher auch für diese Position gelingen, auch wenn Philipp für das Team sehr wertvoll und wichtig war.
Zurück zum FC Chelsea
Mittlerweile bin auch ich wieder aus dem Urlaub zurückgekehrt und beim FC Chelsea unter Coach José Mourinho in die Saisonvorbereitung eingestiegen. Ich werde häufig gefragt, wo denn die Unterschiede zwischen José Mourinho und Jogi Löw liegen. Beide sind Trainer, die gezielt und konsequent den Erfolg anstreben. Natürlich sind die Schwerpunkte bei einem Vereinstrainer, der Woche um Woche eine Mannschaft trainiert anders verteilt, als wenn man eine Mannschaft nur alle paar Monate für einen kurzen Zeitraum zur Verfügung hat. Beide sind super Charaktere, auch wenn sie in ihrer Art unterschiedlich sind.
Was wollt ihr gerne in meinem nächsten Artikel von mir wissen?
Euer Schü
ENGLISH VERSION
Hey guys,
in my last blog post I gave you insights into our preparation for the World Cup. Back then, the world championship title used to be a long awaited childhood dream for me. Well, almost 2 months later, this dream has come true. Having won the title in Brazil is still, even with a little distance, indescribable and it took me quite a while to realize what we had achieved. A large contribution certainly made our fans at home supporting us for the entire time. Even in faraway Brazil we all felt your support!
The Spirit of Campo Bahia
Campo Bahia was our retreat offering great conditions and optimal care by the DFB and the trainers and supervisors. Instead of living in individual hotel rooms, we lived in a shared flats, which was great fun and supported the team spirit. I lived together with Miroslav Klose, Toni Kroos, Roman Weidenfeller, Mario Götze, and Shkodran Mustafi – a great mixture of different ages and experience levels. Despite all seriousness, we had lots of fun and where in a very good mood, to which every one of the team contributed.
My dream moments
After the World Cup people asked me, what special impressions and memories I will keep in memory from Brazil. Most of all the hospitality and warmth of the Brazilians, the great country with its size and its variety impressed me a lot. Not to forget the huge gap between rich and poor. Of course the outcome was enormous: in moments like that you think about so much and you have lots of different emotions. The trophy itself, the goals, the celebration and the great welcome in Berlin: superlatives that will never be forgotten.
I have to remind myself all the time that you cannot take all of this for granted. In just a few years' time my path led me from Ludwigshafen SC over FSV Mainz 05 and Bayer 04 Leverkusen to Chelsea and now I am a world champion! This is unbelievable! 🙂
Surprising resignation
The resignation of Captain Phillip Lahm was a surprise for us and also for me totally unexpected. But I can understand his decision and I respect it. The replacement of players is a normal process. Even though Philip was of great value and importance for the team, they will definitely manage to fill the gap.
Back to Chelsea
Meanwhile I am back from vacation and started this seasons' preparation at FC Chelsea under coach Jose Mourinho. People keep asking me about the differences between José Mourinho and Jogi Löw. Both strive focused and consistently for success. The emphasis of a local club coach, who trains his team on a weekly basis is of course totally different than if you only got to work with a team every few months for a limited time. Both are great characters, just different in their nature.
What do you want to know about me in my next article?
Yours,
Schü
Bilder: Instagram André Schürrle, Kunz
André Schürrle, André Schürrlie, FC Chelsea, Football, Fußball, Schü