André Schürrle: Der Endspurt des Fußballjahres 2014
Please find the English version below!
Hi Leute,
es ist schon eine ganze Weile her, dass ich hier auf Sport Up Your Life von meinen damals noch ganz frischen persönlichen WM-Momenten berichtet habe. Knapp 4 Monate später ist die WM passé und ich stehe mitten im Endspurt des Fußballjahres 2014!
Gesundheitliche Probleme kosten Einsatzzeiten
Für den FC Chelsea läuft diese Saison bis jetzt voll nach Plan. Die Gruppenphase in der Champions League konnten wir als ungeschlagener Tabellenführer abschließen und auch in der Premier League sind wir kurz vor Abschluss der Hinrunde auf dem 1. Tabellenplatz! Für mich hingegen lief die bisherige Saison leider gar nicht nach meinen Wünschen. Eine hartnäckiger Virus und eine Grippe sowie muskuläre Probleme haben mich einige Zeit außer Gefecht gesetzt.
Ein Fehler war dabei sicherlich, dass ich während der Krankheit immer wieder versucht habe zu trainieren. Erst nachdem ich meinem Körper eine Pause gegönnt habe und mich vollständig auskuriert hatte, habe ich dann wieder mit Laufeinheiten begonnen, deren Intensität ich kontinuierlich gesteigert habe. Ausdauer und Laufleistung sind Voraussetzung für ein gutes Spiel. Hinzu kamen zusätzliche Einheiten im Kraftraum zum Kraftaufbau. Ich hatte also ein umfangreiches Aufbauprogramm zu bewältigen, weshalb ich schweren Herzens die Länderspiele gegen Gibraltar und Spanien absagen musste.
Wechselgerüchte und aufsteigende Form
Diese schwierige Phase ist aber nun Gott sei Dank vorbei! Die letzten Wochen konnte ich wieder intensiv trainieren und mich zurück in die Mannschaft kämpfen. Der  3:1 CL-Sieg gegen Sporting Lissabon und mein Tor zum 2:0 zeigen, dass es aufwärts geht.
Nichtsdestotrotz kommen in so einer Phase mit weniger Einsatzzeiten auch immer Wechselgerüchte auf. Natürlich möchte ich so oft wie möglich auf dem Platz stehen und Tore für meinen Club erzielen. In einer Mannschaft wie Chelsea mit vielen Spitzenspielern musst du dich aber immer wieder beweisen. So eine Krankheit wirft einen dabei gleich einige Wochen zurück.
Durch meinen Wechsel 2013, die lange Saison (hier gibt es ja keine Winterpause), die tolle WM mit einer kurzen Vorbereitung,  waren eben auch wenig Erholungszeiten dazwischen. Aber natürlich wird in den Medien dann schnell spekuliert. Für mich ist das kein Thema. Ich fühle mich wohl hier und denke an so etwas gar nicht!
Schwierige Situation mit der Nationalmannschaft
Während es für meinen Verein derzeit gut läuft, war der Start in die Qualifikation mit der Nationalmannschaft noch nicht überzeugend. Dafür gibt es sicherlich mehrere Faktoren. Klar gibt es Nachwirkungen der langen WM-Saison. Dazu kommen Verletzungen und Ausfälle, ebenso die Integration neuer Spieler und auch der intensive Spielplan im Verein spielen eine wichtige Rolle. Das ist die Summe vieler Kleinigkeiten und soll auch gar nicht als Entschuldigung gelten. Aber auch wir brauchen eben ein bisschen Zeit, um ein tolles Jahr zu verarbeiten. Unsere Mannschaft ist sehr stark und wird im Neuen Jahr wieder durchstarten, da bin ich mir ganz sicher!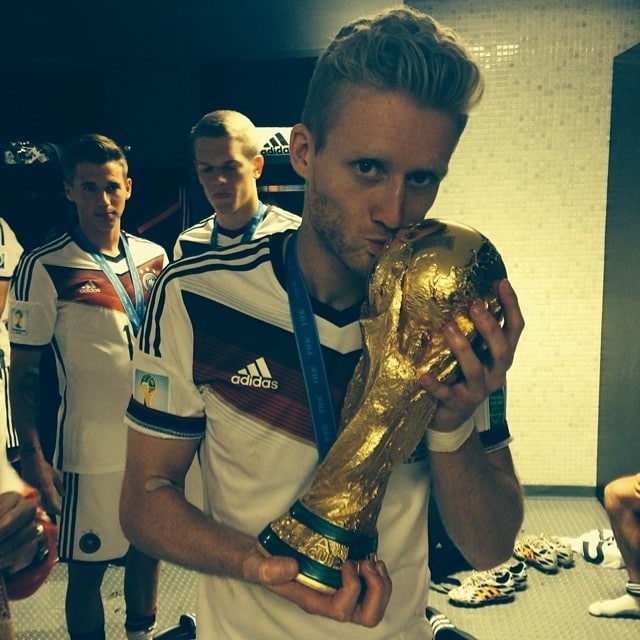 Als Weltmeister stehen wir immer im Fokus, und jeder blickt auf uns. Wir dürfen dies aber nicht zum Anlass nehmen, um nach einigen schwächeren Spielen gleich alles auf den Prüfstand zu stellen. Natürlich müssen wir uns weiterentwickeln – auch als Weltmeister. Es ist auch wichtig, dass wir variabel sind und diverse Systeme spielen, die Joachim Löw unter anderem in den letzten Spielen getestet hat. Das gilt sowohl im Abwehrbereich, im Umschalten beim Spiel nach vorne als auch in der Offensive. Wenn wir als Team auftreten, unberechenbar bleiben und unsere Stärken abrufen, ist es nicht entscheidend, ob wir mit 2 Stürmern oder gar keinem spielen. Entscheidend ist unsere Qualität!
Zum Schluss eines aufregenden Jahres wünsche ich euch frohe Weihnachten und einen starken Start ins neue Jahr!
Euer Schü
ENGLISH VERSION
Hey guys,
It has been a while since I last reported here on the blog from my personal World Cup moments. Almost 4 months later, the World Cup already seems far away and I find myself at the end of the soccer year 2014!
Health problems cost operating times
For Chelsea FC, the season is running exactly as planned so far. We were able to complete the group stage of the Champions League as the unbeaten league leaders and also in the Premier League we are nearing completion of the first half of the season on the first place in the table! However, for me the previous season was not according to my wishes. A persistent virus and influenza as well as muscular problems put me out of action for some time.
It certainly was a mistake that I tried to exercise again and again during this period of illness. It was only after I forced my body to take a break and had fully recovered, when I finally started with my running sessions whose intensity I increased continuously. Durability and mileage are prerequisites for a good game. Furthermore I added units in the weight room for the build-up of strength. I had to deal with an extensive training-programme, which was the reason why I reluctantly had to cancel the international matches against Gibraltar and Spain.
Transfer rumors and improving form
This difficult period is over now, thank God! The last few weeks I was able to intensively train and fight myself back into the team. The 3: 1 Champions League win over Sporting Lisbon and my goal to the 2:0 indicate that things are getting better.
Nevertheless, in a phase with less operating time, transfer rumors are always coming up. Of course I want to be on the pitch as much as possible and score goals for my club. In a team like Chelsea with many top players you have to prove yourself again and again. Such a disease throws you back a few weeks.
Through my exchange 2013, the long season (here there are no winter breaks), the great World Cup and the short preparation, I just had little relaxation times in between. Of course this quickly brings media to speculate about a transfer. But this is not an issue for me. I feel comfortable here and would not think of such a thing!
Difficult situation with the national team
While things are going well for my club, the start of the qualifying for the German national team hasn't been convincing yet. There are certainly several factors for that. Sure, there are after-effects of the long World Cup season. Injuries and failures are coming on top, as well as the integration of new players and the intense game plan of the club. All these reasons are playing an important role. This should not pertain as an excuse but it is the sum of many little things. But we also need a little time to process a great year. Our team is very strong and will get started in the New Year, I 'm sure!
As world champions, we are always in focus and everyone is watching us. We should not take a few weaker games as an opportunity to put everything to the test, though. Of course we must enhance ourselves – also as world champions. It is also important that we are variable and play diverse systems which Joachim Löw has tested in recent games. This is true in the defense sector, in switching the game forward and in the offensive part. If we play as a team, remain unpredictable and retrieve our strengths, it is not important whether we play with 2 strikers or none. What matters is our quality!
At the end of an exciting year I wish you a Merry Christmas and a strong start into the New Year!
Yours,
Schü
Bilder: Instagram André Schürrle, Andreas Fessler
2014, andré schürrle, FC Chelsea, Football, Fußball, Fußball WM, fußball-weltmeister, Schü, schürrle, Weltmeister, WM