Meine April Wishlist
Der April ist da und besser als gestern hätte er wettertechnisch kaum starten können. Meine Mittagspause fand im Park statt, die ersten Picknickdecken wurden gesichtet und man munkelt, dass die Herren bereits vereinzelt in kurzen Hosen am Start waren. Wenn es morgens noch ein bisschen frisch auf dem Rad ist, würde sich die Bikerjacke von Tigha sicherlich ziemlich gut an mir machen und in den Sonnenstunden in der Pause kommen die Sandalen von Unisa gerade recht.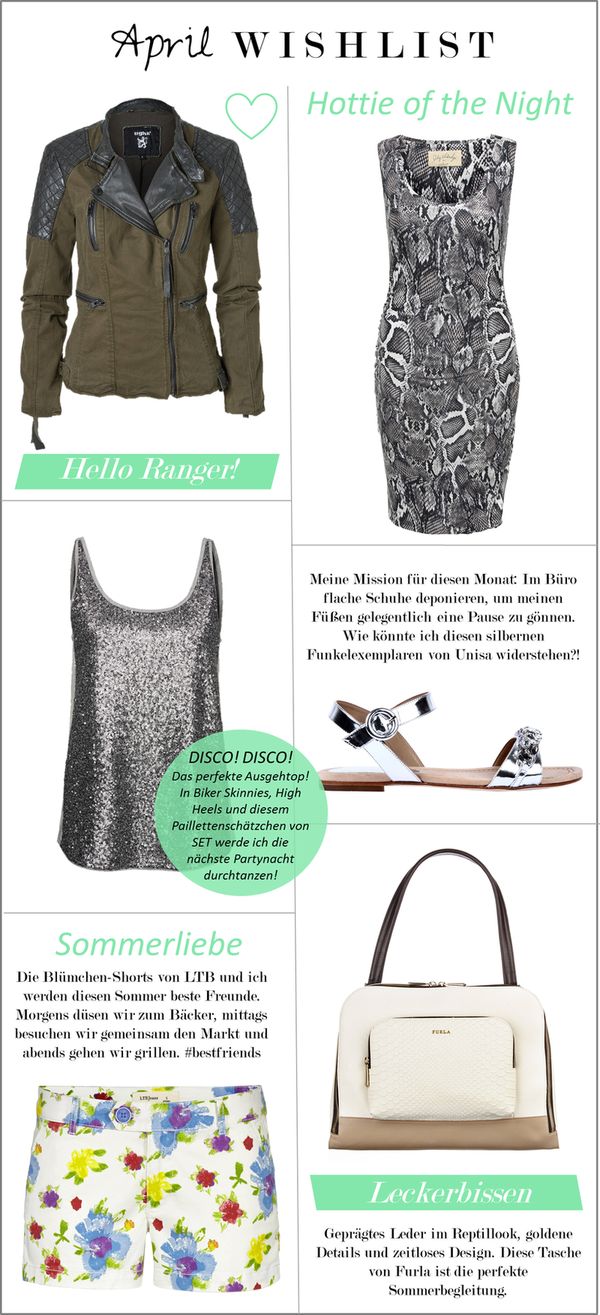 Bikerjacke von Tigha :: Kleid von Velvet :: Paillettentop von SET :: Sandalen von Unisa :: Shorts von LTB :: Tasche von FURLA
Was steht bei euch diesen Monat auf der Wishlist? Happy April, ihr Zuckerschnuten!
It-Bag, Kleid, Sommer, wishlist
---
Julia
Social Media Managerin bei engelhorn. Biker Boots. Chanel. Kekse. Lesen. High Heels. Mädchenkram. Kurztrips. Running. Gabriel Garcia Marquez. Aperol Spritz. Diane Kruger. Snowboarden. Quatschen. Barcelona. Mädelsabend. Pink. Foodkoma. Losprusten. Kuchen. Neuseeland. Sex and the City. Jane Austen. iPhone. Schumacher. Pinguine. Weißer Tee.
---