Die Trend-"Farben" für den Winter 2013
Die Modewoche in Berlin ist zu Ende und wie in der Schule könnten wir jetzt fragen: und was haben wir gelernt? Heute möchte ich euch die Farben vorstellen, die im nächsten Winter (ja, liebes Wetter, dazwischen kommt jetzt aber erst einmal bitte ein schöner Sommer) in unseren Kleiderschränken nicht fehlen dürfen.
Schon aus der der Überschrift könnt ihr herauslesen, dass der nächste Winter nicht gerade bunt wird. Die häufigsten Farben, die ich auf der Fashion Week in Berlin gesehen habe, sind gar keine wirklichen Farben: nämlich Schwarz und Weiß. Kombiniert heißt das dann gern "Black and White" und das Beste daran ist, diese Kombi steht eigentlich jedem. Besonders schön fand ich die Schwarz-Weiß-Looks mit lässiger Schleife, die Creative Director Karsten Fielitz in seiner letzten Kollektion für Rena Lange zeigte.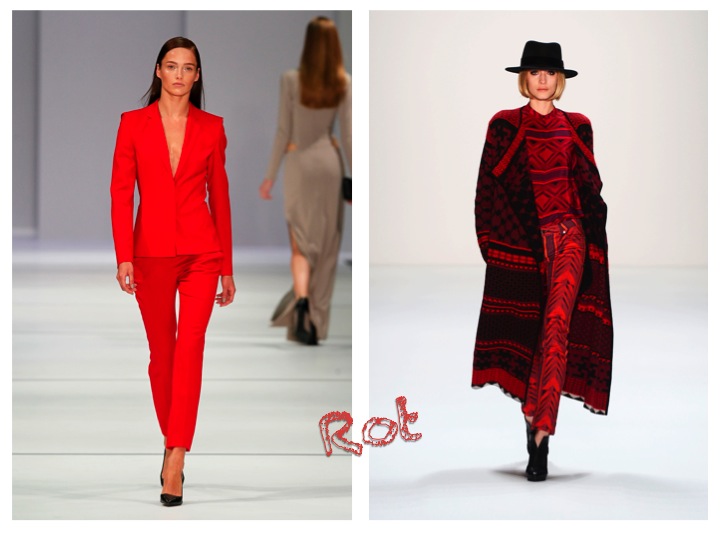 Wer es gern farbenfroh möchte, der kann im Winter zu Rot greifen. Bei Hugo wurde beispielsweise ein roter Hosenanzug gezeigt, mit dem ihr gleich zwei Trends aufgreift. Hosenanzüge sind nämlich nicht mehr nur für den Job geeignet, sondern sehr modern. Etwas lässiger wurde der Rot-Look bei Lala Berlin getragen.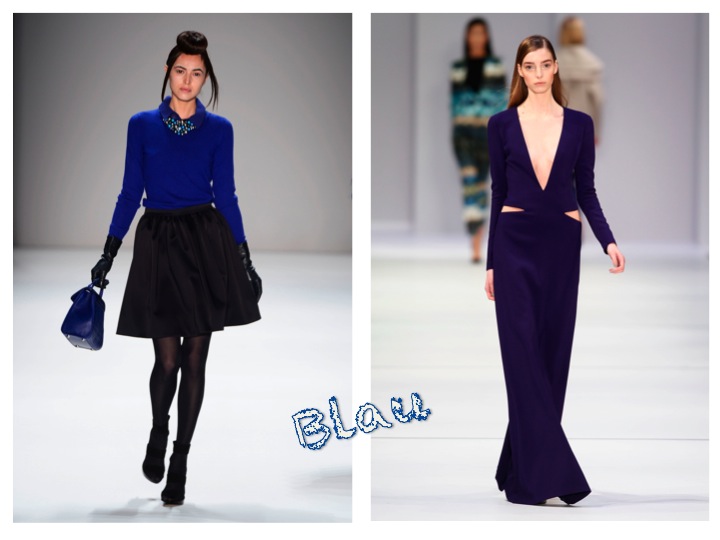 Falls Rot aber so gar nicht eure Farbe ist, braucht ihr keine Angst haben, im Herbst farblos herumlaufen zu müssen. Bei Dimitri war ich ganz verzaubert von den schönen, dunklen Blau-Tönen und auch bei Hugo kam die Farbe wieder auf. Da wird sicher das ein oder andere blaue Teil einen Platz in meinem Schrank bekommen.
pics: Mercedes Benz Fashion Week Berlin
Berlin, C'est tout, Dimitri, Farben, Fashion Week, fashionweek, Herbst Winter 2013, HUGO, Lala Berlin, Laurel, Marc Cain, Mercedes Benz Fashion Week, Mercedes Benz Fashion Week Berlin, Rena Lange, Trend, Trendfarben, Trends
---
Julia
Social Media Managerin bei engelhorn. Biker Boots. Chanel. Kekse. Lesen. High Heels. Mädchenkram. Kurztrips. Running. Gabriel Garcia Marquez. Aperol Spritz. Diane Kruger. Snowboarden. Quatschen. Barcelona. Mädelsabend. Pink. Foodkoma. Losprusten. Kuchen. Neuseeland. Sex and the City. Jane Austen. iPhone. Schumacher. Pinguine. Weißer Tee.
---