Februar Wishlist
Das Frühjahr nährt sich mit unaufhaltsamen Schritten (war der Winter jemals da? In Mannheim zumindest nicht spürbar…) und es ist an der Zeit, dass mein Kleiderschrank wieder auf etwas wärmere Temperaturen gepimpt wird. Nach wochenlangem Wollmantel und Daunenjacken ausführen habe ich jetzt richtig Lust auf eine etwas leichtere Jacke. Meine erste Wahl fällt auf die Bomberjacke von Closed, da sie sich so vielfältig kombinieren lässt und eine heiße Figur macht. Mit einem Auge schiele ich aber auch auf den Parka von Hilfiger Denim – etwas schwieriger in der Kombination, dafür aber schmeichelhaft für den Teint… Welche würdet ihr nehmen?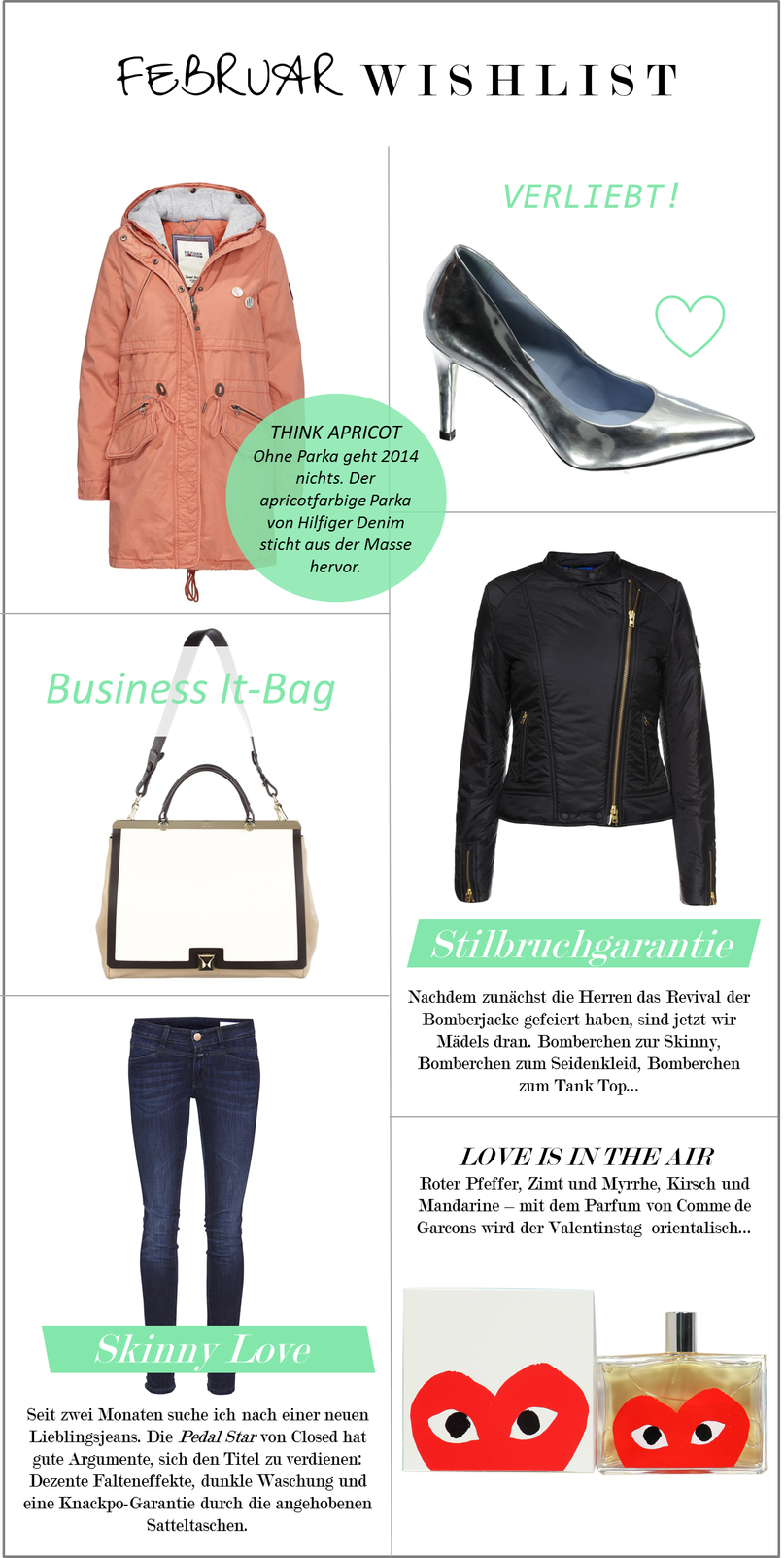 Parka: Hilfiger Denim, Pumps: Schumacher, Tasche: Furla, Bomberjacke: Closed, Skinny Jeans: Closed, Parfum: Comme des Garcons
closed, furla, It-Bag, Pumps, tasche, wishlist
---
Julia
Social Media Managerin bei engelhorn. Biker Boots. Chanel. Kekse. Lesen. High Heels. Mädchenkram. Kurztrips. Running. Gabriel Garcia Marquez. Aperol Spritz. Diane Kruger. Snowboarden. Quatschen. Barcelona. Mädelsabend. Pink. Foodkoma. Losprusten. Kuchen. Neuseeland. Sex and the City. Jane Austen. iPhone. Schumacher. Pinguine. Weißer Tee.
---