Marc Cain 2014/15: Punk Grunge goes Leo
Wow! Marc Cain hat mal wieder bewiesen, wie viele Facetten eine einzelne Kollektion haben kann. Hatte Dorothee Schumacher morgens noch Glam-Rock Töne angeschlagen, ging Marc Cain in die Vollen und zeigte ein Punk-Grunge Programm gespickt mit Nieten, Armcuffs, derben Boots und Iro-Mützen.
Es startete mit Oversize-Sternenpullover, Ringelshirt und gekrempelter Hose, Used Denim zu semitransparenter Bluse und Nieten-Söckchen noch recht sportiv und cool. Auch Lederskinny, Fellweste, XXL-Perlenketten und sogar burschikose Springerstiefel (teilweise Spike-besetzt!) konnten wir auf dem Laufsteg sichten.
Allmählich ging es in elegantere, femininere Looks über und auch die Farben wurden frischer. Petrol, Eisblau, Rosé, Puder trafen auf Hahnentrittmuster und besonders auffällig: Leo! Ein knielanger Leopardenrock gesellte sich zu Fransenweste, Pailletten-Waschbär-Stickerei auf dem Strickpullover und mit Schmucksteinen verzierten Handschuhen und Strumpfhosen. Das Leo-Muster ergoss sich über Mäntel, Jacken, Maxi-Röcke und machte selbst vor Kniestrümpfen und Hüten nicht Halt.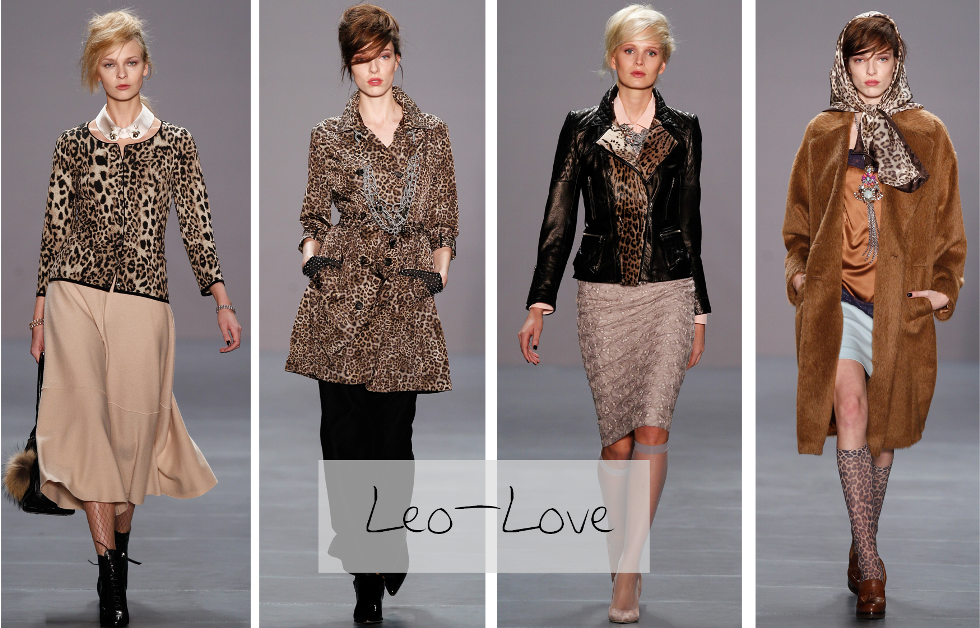 Trendtipp: Jetzt schon nach Embellishment-Strumpfhosen, Leo-Prints und dem Waschbären Ausschau halten – die Eule ist nun wirklich 2013…
Bilder: Mercedes-Benz Fashion
Fashion Week, leo, leoprint, Marc Cain, mbfwb
---
Julia
Social Media Managerin bei engelhorn. Biker Boots. Chanel. Kekse. Lesen. High Heels. Mädchenkram. Kurztrips. Running. Gabriel Garcia Marquez. Aperol Spritz. Diane Kruger. Snowboarden. Quatschen. Barcelona. Mädelsabend. Pink. Foodkoma. Losprusten. Kuchen. Neuseeland. Sex and the City. Jane Austen. iPhone. Schumacher. Pinguine. Weißer Tee.
---