Weekly Gentlemen's Style
Wenn das mal kein wahrer Latino-Lover ist 🙂 Zurück gegeltes schwarzes Haar und  Brusthaare, die sich aus dem geöffneten Hemd kräuseln. Lässig sitzt er da und schaut gedankenverloren in die Ferne. Oder hat er unter seiner Sonnenbrille vielleicht doch gemerkt, dass ich ihn fotografiere? So oder so, er weiß auf jeden Fall genau, wie man sich in Szene setzt.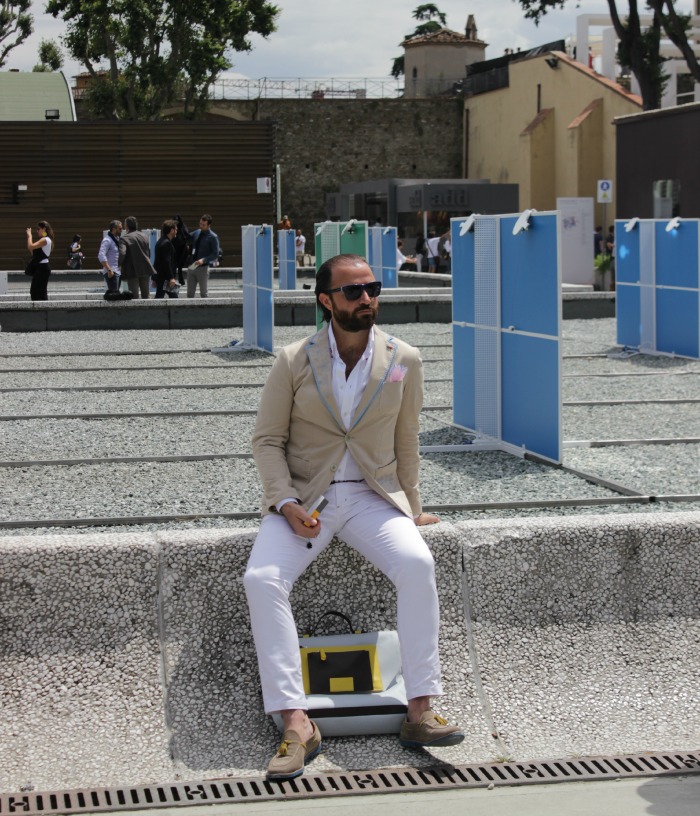 Weiße Jeans zu weißen Hemd (à la Latino versteht sich) zu hellbeigem Sakko. Perfekt abgestimmt auf die Slipper. Natürlich gehört ein rosa Einstecktuch zur Gentlemen-Etikette dazu und durch die sonnengelben Details, weiß dieser Herr genau, wie man die Blicke auf sich zieht.
Shop the Look
Gentleman, pitty, Sakko, Style, weekly gentlemen's style
---
Julia
Social Media Managerin bei engelhorn. Biker Boots. Chanel. Kekse. Lesen. High Heels. Mädchenkram. Kurztrips. Running. Gabriel Garcia Marquez. Aperol Spritz. Diane Kruger. Snowboarden. Quatschen. Barcelona. Mädelsabend. Pink. Foodkoma. Losprusten. Kuchen. Neuseeland. Sex and the City. Jane Austen. iPhone. Schumacher. Pinguine. Weißer Tee.
---